A look at the the murals of one of the thousand Buddha cave sites along the silk road (French narration, English subtitles).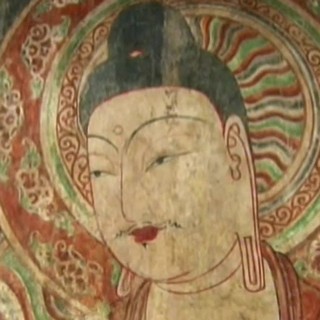 This is an excellent French film about the 1,000 Buddha Caves at Bezeklik, near Turfan in Xinjiang on the ancient Silk Roads.
In the early 20th century these caves were discovered by archeologists and adventurers, more or less under the sands in the desert.
The walls were covered with priceless works of Buddhist art, and to preserve them they were cut from the walls and removed to Museums around the world.
They ended up in six different countries, including large sections which were taken to Berlin, where they were destroyed during the second world war.
This film tells the history of the site, its rediscovery and the work of a team of experts at the University of Ryokuko in Kyoto, who endeavoured to reconstruct the original murals.
It shows some of the murals, how they were placed, and discusses what they depicted, and how they opened up a whole moral universe which we can still learn from today.
if the video does not appear on the page, please first try reloading the page, and if that doesn't work, leave a comment so I can update the page (the comment is not published)
to see an album of stills click here