This is a wonderful collection of colour and black and white film taken in Tibet during the last years of its independence, as it has been preserved by the British Film Institute.
The film traces the history of Tibet and its downfall through the last decades of its independence, from the 1930s to the escape of the Dalai Lama in 1959, and illustrates the times with the rare footage, which was taken by British, Tibetans and Chinese alike.
The film is interwoven with interviews with the Dalai Lama, the most important participant in those times (being as candid as ever); and also with others like his sister-in-law; and Prof. Norbu, who recount their feelings and recollections as they are shown the old films.
The films inevitably focuses around the hierarchy of old Tibet: the Dalai Lama, government officials, ceremonies, monks, monastic life, and we also see something of the British and Chinese officials, who were present at the time (and took some of the footage).
We see the Potala and Norlinka palaces, Sera monastery and other monasteries as His Holiness travels around and undergoes his monastic exams; and we also see glimpses of the main festivals that took place during the yearly round.
What we don't see, of course, is much of the daily life of the people, which then – as now – was not thought worthy of recording, and so it is a one-sided view of the country, from the top down so to say.
It is also seen from the Tibetan-in-exile point of view also, who rightly bewail the passing of their culture, but without really appearing to see the underlying reasons for its disappearance.
The Dalai Lama's sister-in-law sums it up in one very poignant utterance near the end of the film:
We were just so engrossed in our little pond, we knew nothing [of] what was happening in the world, what could happen. And so we lost our country.
if this video is no longer available please leave a comment so I can update the page
(the comment is not published)
Stills from the Documentary

Dalai Lama, Age 3

Dalai Lama, Age 5

Dalai Lama at his Installation

Dalai Lama's Family in the Norlinka

Dalai Lama Holding Audience

Dalai Lama debating during his Monastic Exams

Dalai Lama in Lhasa

Dalai Lama's Elder Brother

Aristocratic Lady

Potala Palace

Inside the Potala Palace

Dalai Lama's viewing room in the Potala Palace

End of a Dance Festival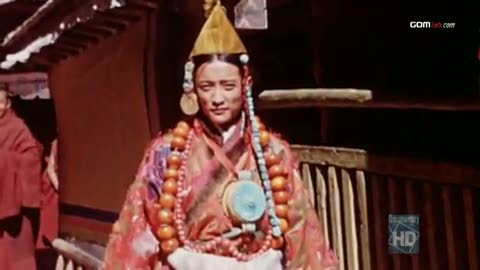 Aristocrat in Ancient Clothing

Tibetan Warrior

Aristocratic Courtiers

Monastic Festival

Large Gathering of Monks