A modern retelling of the Ramayana story by Nina Paley featuring the music of the 20s blues singer Annette Hanshaw.
The two most influential texts in South-East Asia have been the Jatakas and the Ramayana, which have been rewritten, painted in murals, acted out and retold in a variety of ways over the millenium.
In Thailand and Cambodia the Ramayana has assumed the position of a National Epic, with their own versions of the story, the Ramkhein and the Ramkear, and last week we saw the National Ballet of Cambodia giving their performance of the story in Lyons, France.
Nowadays all culture is international culture and we start to see reinterpretations of many texts by cultures that are far away from the source, but only occasionally are these really successful.
Sita Sings the Blues, which retells the Ramayana in contemporary fashion, is one of those. Who would think that it would be possible to bring together an old Indian story of heroes, battles and lovers together with blues music from the 20s, and that within a cartoon setting?
However, the music, originally sung by Annette Hanshaw, is so well chosen and fits so aptly into the mouths of the heroine Sita that it almost looks like it was written for her.
The full-length cartoon was made over a period of years by Nina Paley and manages in a short compass to include all the main points in the story:
the expulsion of Rama to the forest
the capture of his wife Sita by the evil king Ravana
her discovery by Hanuman and his monkey tribe
her recapture by Rama and his monkey army
her trial by fire to test her virtue
the learning of the story by Valmiki
and Sita's final return to the Earth
Alongside the main story is Nina's own story, which runs curiously parallel to the main story, for during the time the film was being made her own marraige broke up.
The cartoon uses different formats for the telling of the stories: the narrative is outlined by puppet show characters and discussions amongst three people who are trying to remember the details, so well-known to all, they have been forgotten.
The main part of the story uses a more normal cartoon character format; and the parallel story of Nina's marraige going awry uses a different style again.
I must say that with its inventive re-imagining of the story and great execution this is my all-time favourite cartoon, and I would love to see something of the sort applied to retell some of the Jataka stories, which for most people are locked away in media they cannot or do not access.
if the video does not appear on the page, please first try reloading the page, and if that doesn't work, leave a comment so I can update the page (the comment is not published)
Sita
Brahma
Nina and Dave and Lexi
Rama and Sita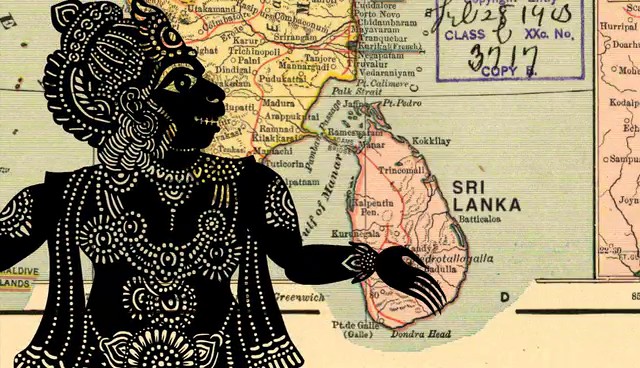 Shadow Puppet
Rama and the Deer
Sita returns to the Earth
Annette Hanshaw