Yakshini at Sanchi
These are two short documentaries giving an overview of Hindu and Buddhist art in India, made by the Asian Art Museum in San Francisco, which is one of the largest museums of Asian Art in the world.
Religious art, of course, is always functional: being ritualistic or devotional in character, and takes on a completely different function when it is isolated as an aesthetic work in a museum.
Recognising that, these films travel to India to see the art in situ and to find out its meaning through the eyes of devotees, as well as experts, and although they would have been better if there was more time given to their subjects, they nevertheless give a competent overview of their subjects.
The first film (around 30 mintues) is about the role of art in a Hindu setting, and quickly covers such topics as the various gods and goddesses who are portrayed, their iconography, and their situation in the temples.
The second (around 20 minutes) looks at the role of art in Buddhism, which is in fact much more didactic, seeking to illustrate the lives of the Bodhisatta and his final Life as Buddha, as well as portray the lives of the current Bodhisattvas.
Here it covers the famous stupas, the cave temples and the aniconic representations of the Buddha as well as the developing Buddha images, and on to the forms of Avalokiteshwara and Maitreya.
The films were written and directed by Brian Hogarth, and are presented by noted authorities Tushara Bindu Gude and Vishwanath S. Naravane, as well as Kalpana Desai, Raj Desai and Bobby Chaterjee, who act as our guides to the subject.
if this video is no longer available please leave a comment so I can update the page
(the comment is not published)

Durga

Krishna

Khajuraho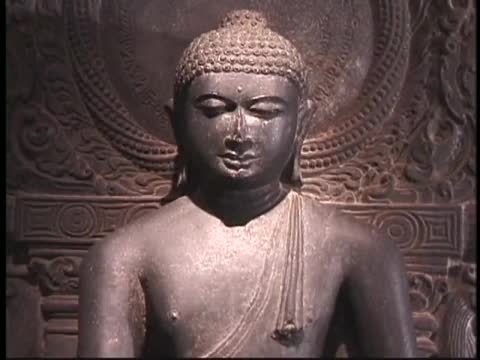 Buddha

Buddha

Vaishravana