A journey through the sacred landscape of Tibet by a nun seeking the secret teachings.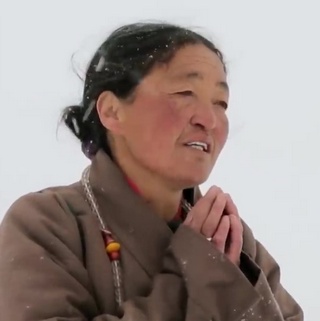 A Tibetan nun, Ani Rigsang, leaves her monastery in Lhasa and travels thousands of kilometres across Tibet in search of the secret teachings which will enable her to develop the rainbow body and immortality.
This wonderful film by the great photographer and filmmaker Hamid Sardar shares her journey as she travels from landmark to landmark across the vast expanses of Tibet, coming ever closer to her destination, which will eventually be the remote nunnery of Gebchak Gonpa.
Along the way she meets with many masters and listens to their advice, including famous lamas and mad yogis; and visits many famous monasteries and temples such as the Jokhang in Lhasa, the Serta monastery in Eastern Tibet and the end of her quest in Gebchak.
The film is set against the sacred geography of Tibet and its legends, and includes trips to the vultures' graveyards and vast open snowfields which she must cross in order to attain her goal.
if the video does not appear on the page, please first try reloading the page, and if that doesn't work, leave a comment so I can update the page (the comment is not published)
to see an album of stills click here