Western monastics speak about their paths to becoming first Buddhists, and then ordained members of the Sangha.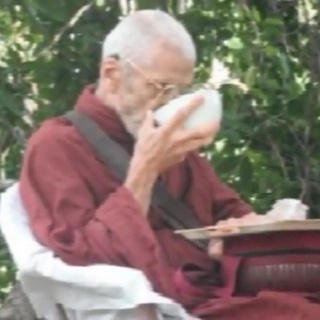 This is a companion piece to Theri Stories, Spiritual Journeys of Nuns which I showed here a few weeks ago, and is the same sort of format: western monastics, centered around the Ajahn Brahm's Perth monastery, speaking to camera about what brought them to Buddhism and the monastic life.
As with the other film, all the participants are remarkably articulate about their paths, and very open and forthright about their own lives and why they decided on higher ordination. Those interviewed include Bhante Sujato, Ajahn Brahmali, Ven Nissarano, Ven Upasamo, Ven Jaganatha and others.
Most of the participants simply talk about their own journeys, but Ven Nissarano is also asked about Ven Ña?adipa, an iconic western forest monk in Sri Lanka (pictured here), who has been living in solitude for 40+ years.
As with the earlier film the production values leave a lot to be desired with poor recording and editing marring the film but the stories themselves are inspirational and well worth the time.
if the video does not appear on the page, please first try reloading the page, and if that doesn't work, leave a comment so I can update the page (the comment is not published)
to see an album of stills click here