The story of the river is taken up in this episode as it leaves the Himalayan foothills and enters the swamplands known as the Terai, here there are grasses that can grow 4 metres a year – so large they can even hide elephants.
Other creatures also live in the Terai swamplands: White Rhinoceros and Tigers, as well as birds like Brahmany Ducks, Spoonbills and Indian Skimmers. We also see the extraordinary life of the gharial, a very distinctive form of crocodile.
The monsoon when it comes brings back life to the river which has been drying up during the hot season and washes down an enormous amount of sediment from the mountains producing muds and soils that are estimated to be 3 miles deep in certain places.
In the rice bowls that this fertile land produces we can see domestic birds like ducks, who help clean and fertilise the rice fields; and the Sarus Crane, which is the largest flying bird on earth, and its courtship dances.
Emphasis is placed on the Hindu respect for all life forms, even dangerous ones like the cobra, which in certain villages are allowed to roam freely throughout the compounds; and the mischievous macaques who are quite violent when in search of food.
This is contrasted with the devastation caused first by the Moghuls and their hunting practices, and even more so by the British, who not only hunted, but also destroyed habitats wholesale in their greed for commerce.
The team also visit the Sonepur Mela in Bihar, the largest livestock fair in India, where cattle, horses and elephants, some of which can sell for up to BPS 10,000; and see villagers fighting off wild elephants in packs of up to 100 in Bengal.
This episode closes by tracing the branch river, the Hooghly, as it flows through Kolkata, and looks at the effect large scale populations are having on the river itself, with their ever-increasing pollution, and asks whether the river, and its inhabitants like the Ganges River Dolphin, can survive the onslaught.
if this video is no longer available please leave a comment so I can update the page
(the comment is not published)
Some Stills from the Documentary

Camels at Sunset

Deer at the Waterside

Tiger Swimming in the Water

Cobra Close Up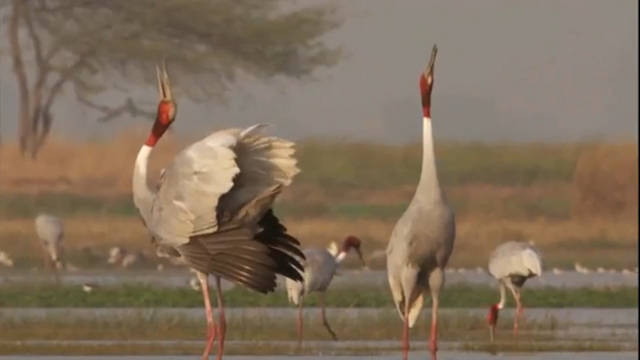 Mating Dance of Sarus Cranes

Sonepur Mela in Bihar