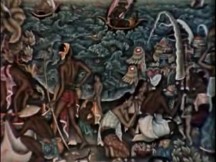 This episode is about music and dancing in the Balinese village of Peliatan, the separate items linked by an appropriately illustrative detail from Balinese paintings.
The second episode in this documentary series from 1969 covers the animistic rituals and festivals of Bali, officially Hindu, but with origins in ancient ceremonials practised long before Hinduism came to the island.
This is the first in a 3-part series about Bali made by David Attenborough in 1969. This episode is a general introduction to Bali, its people and their varied arts.
Arn Chorn-Pond was 10 years old when the Khmer Rouge come to power, he was seperated from his family, owners of a leading opera company, and therefore, like most artists, doomed.
The plot is about a family of nomadic shepherds in the Gobi desert trying to save the life of a rare white bactrian camel calf after it was rejected by its mother.