This week's episode is about the evolution of photojournalism, from its beginnings with the Frenchman, Henri Cartier-Bresson, one of the great photographers of the 20th century, up and to the coverage of the aftermath of 9/11.
The second documentary in this BBC series examines the various movements that arose in photography in the first half of the 20th century by focusing on some of the representative workers in the field.
In the second series of films about radical ecological architecture we move from the States to see how it is being implemented around the world.
A series of radical films made all over the world about new ideas in building and community, and how we move away from the mess we have only recently created.
How America changed its wartime policy of not bombing civilian targets and was eventually involved in the bombing of the population at the centre of Berlin is the theme of this documentary.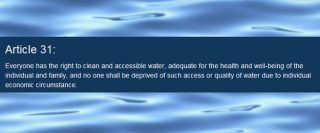 This documentary provides a lot of fresh material showing how the commodification of such a basic resource as water is actually killing people right here and now, but no one seems to be held accountable for it.
This documentary travels to Bolivia, India, Spain, Tanzania and back home to Detroit to see the effect that privatisation of water is having on the have-nots, which pushes people into disease on the one hand and criminal activity on the other.
This film takes a very bleak view indeed. It's basic thesis is there are really only two options: either the ecological system is going to collapse or the economic system will.
Josh Tickell has travelled all over the planet, authored a number of books and articles, founded a non-profit organisation and made this highly entertaining and equally informative documentary looking at alternative fuel sources.