A very good overview of the development of Khmer architecture and statuary given by Helen Jessup as part of the Aspects of Angkor series of lectures at the Smithsonian Institution, Washington
Historian Bettany Hughes explains some of the basic Buddhist concepts, and at the same time show some of the riches of Buddhist culture.
This is another impressionistic film about Cambodia, but it is much more solemn and haunting. It was filmed by Ellen Bruno in 1989, 10 years after the Vietnamese overthrew Pol Pot and set up their own government.
Dogora was filmed in Cambodia and focuses on the everyday life of the people: their travels, work, play and enjoyment. We see life both in the cities and in the countryside, and sometimes some very intimate pictures have been captured, particularly of the children.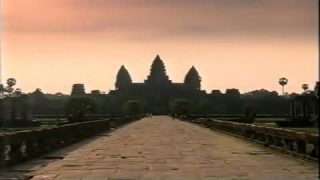 This is one of the more intelligent reviews of what we know about the Angkor civilisation that flourished in Cambodia between the 9th and 14th centuries.
This is a well-researched and informative documentary about the Sacred Temple of Shri Tribhuvan Maheshwar that is now known as Banteay Srei, which stands 25km north-east of the main Angkor complex in Cambodia.
This is a short video from National Geographic's Atmosphere podcast, which looks at Angkor Wat in Cambodia, which I visited twice this year.