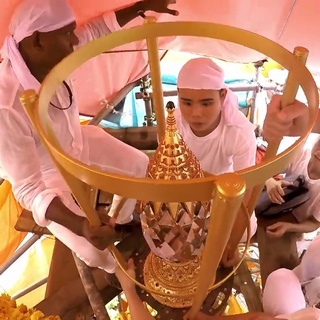 A record of the replacement of the crystal pinnacle at the Ruwanweli Seya in Anuradhapura.
The penultimate in a series of films about Buddhism looks at the art and sensibilities of India spread throughout the East.
A short biography of the great Sri Lankan reformer and revivalist Anagarika Dharmapala.
A talk at the University of California by Osmund Bopearachchi on the ancient capital of Anuradhapura in Sri Lanka.
A documentary looking at various cases of past life recall amongst children around the world.
Three videos from Sri Lanka in the Amazing Places series covering temples and shrines in Anuradhapura, Dambulla and Sigiriya.
A journey through the early form of Buddhism as practised in Sri Lanka, with Ven Ananda Maitreya as our guide.
The second of three films about the natural ecology of Sri Lanka, looks at the difference the lakes, both natural and man-made, make to the wildlife (NatGeo).
The first in a series of three lectures by Prof. Donald S. Lopez, in which he looks at the medieval encounters between Buddhism and Christianity, and the misunderstandings it gave rise to.