A short film about the Norbulingka Institute in Dharamsala and their efforts to preserve Tibetan culture and arts.
A fascinating documentary following a successful Lebanese artist as she leaves behind her previous life in the States and ordains in Sri Lanka.
A talk by Maxwell K. Hearn, curator of the Met in New York, on Chinese painting during the period of Mongolian dominance.
Extracts from a series of films looking at the various forms of Vajrayana Buddhism which are spread all along the trans-Himalaya regions of northern India
This fourth lecture of Ch'an Painting looks at the appreciation of this style in Japan and concludes by examining some of the best landscape paintings.
The third in this series of discussions about Ch'an painting by James Cahill looks at Muqi's iconographic Six Persimmons painting.
A second lecture on Ch'an painting in China by the distinguished art historian James Cahill.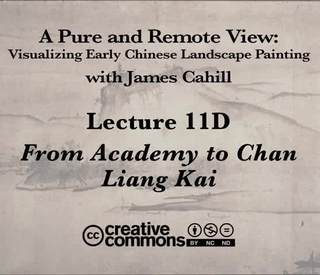 In 2010 Professor Emeritus James Cahill, one of the leading and most eminent historians of Japanese and Chinese art, made a series of films, entitled A Pure and Remote View, examining the development of Chinese painting from its beginnings up and to the middle ages. The series of 12 lectures, often split into 2, 3…