An illustrated talk on the geographical, social, political and religious background to the Buddha's teaching.
A talk outlining the history and then examining the current status of Buddhism in China, the forms it is taking and how it can operate in a communist country.
The fifth and sixth lectures by Prof David Eckel on the history of Buddhism looks at two important concepts in the Buddha's teaching: that of suffering and the path to the cessation of suffering
The first two lectures by Prof David Eckel on the history of Buddhism gives a course overview and a look at the background to the society the Buddha was born into
A talk by Maxwell K. Hearn, curator of the Met in New York, on Chinese painting during the period of Mongolian dominance.
A lecture about the meaning and symbolism used in Tibetan art works by Prof. Robert Thurman.
This fourth lecture of Ch'an Painting looks at the appreciation of this style in Japan and concludes by examining some of the best landscape paintings.
The third in this series of discussions about Ch'an painting by James Cahill looks at Muqi's iconographic Six Persimmons painting.
A second lecture on Ch'an painting in China by the distinguished art historian James Cahill.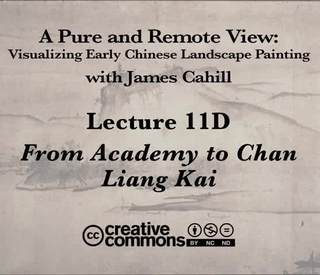 In 2010 Professor Emeritus James Cahill, one of the leading and most eminent historians of Japanese and Chinese art, made a series of films, entitled A Pure and Remote View, examining the development of Chinese painting from its beginnings up and to the middle ages. The series of 12 lectures, often split into 2, 3…