An unusual look at the work being carried on at the Angkor sire these days by archaeologists, restoration and other experts.
The second film about the Khmer Empire this time looks at the achievements of the great Buddhist King Jayavarman VII, who was known as a Bodhisattva for his compassion and care for his people.
First of two documentaries that look at the empire of Angkor, the Kings who ruled it, and their achievements.
A very interesting talk given as part of the Aspects of Angkor series which traces the introduction of bronze work in SE Asia, and also the technologies that are involved in the work.
A presentation by Oliver Cunin on Banteay Chhmar, a Mahayana Temple, which is the largest of the Angkorian sites outside of the main complex itself.
A very good overview of the development of Khmer architecture and statuary given by Helen Jessup as part of the Aspects of Angkor series of lectures at the Smithsonian Institution, Washington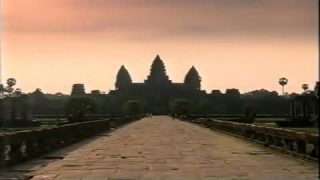 This is one of the more intelligent reviews of what we know about the Angkor civilisation that flourished in Cambodia between the 9th and 14th centuries.