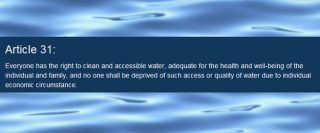 This documentary provides a lot of fresh material showing how the commodification of such a basic resource as water is actually killing people right here and now, but no one seems to be held accountable for it.
This film in an innovative look at the situation facing the children and their carers on the streets of Kampala in Uganda, and also follows them back to their homeland when the authorities remove them before the Commonwealth Heads of Government Meeting in 2007.
This documentary travels to Bolivia, India, Spain, Tanzania and back home to Detroit to see the effect that privatisation of water is having on the have-nots, which pushes people into disease on the one hand and criminal activity on the other.
Today is International Women's Day, and Wangari Maathai is one of the most articulate women alive at present, for nearly 40 years her voice has been heard in support of women and women's rights, the environment and sustainable development, and peace and reconciliation around the world.