A movie about two brothers who undertake Zen practice in Argentina (Spanish with English Subtitles)
A documentary by Rob Steward, a young man who fell in love with sharks, and decided to become an underwater filmmaker, to record his favoured creatures.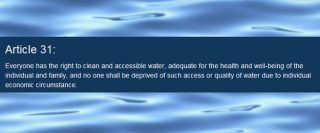 This documentary provides a lot of fresh material showing how the commodification of such a basic resource as water is actually killing people right here and now, but no one seems to be held accountable for it.
This documentary travels to Bolivia, India, Spain, Tanzania and back home to Detroit to see the effect that privatisation of water is having on the have-nots, which pushes people into disease on the one hand and criminal activity on the other.