A report on the effects that increased tourism due to gaining World Heritage status is having on SE Asian cultural sites, both living and historic, by Alea Callan.
A very interesting talk given as part of the Aspects of Angkor series which traces the introduction of bronze work in SE Asia, and also the technologies that are involved in the work.
A presentation by Oliver Cunin on Banteay Chhmar, a Mahayana Temple, which is the largest of the Angkorian sites outside of the main complex itself.
A very good overview of the development of Khmer architecture and statuary given by Helen Jessup as part of the Aspects of Angkor series of lectures at the Smithsonian Institution, Washington
Historian Bettany Hughes explains some of the basic Buddhist concepts, and at the same time show some of the riches of Buddhist culture.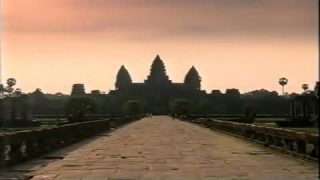 This is one of the more intelligent reviews of what we know about the Angkor civilisation that flourished in Cambodia between the 9th and 14th centuries.
This is a well-researched and informative documentary about the Sacred Temple of Shri Tribhuvan Maheshwar that is now known as Banteay Srei, which stands 25km north-east of the main Angkor complex in Cambodia.
This episode focuses on the magnificent Mo-gao caves at Dun-huang in the Gobi desert. In this complex, there are 500 caves and over 3,000 statues and murals. It is counted as the longest art gallery in the world.