This film, made in 2001 by Stephanie Black, explores the effect that the International Monetary Fund (IMF) has on poor countries by forcing them into globilisation. The name of the film is taken from a song by Mutabaruka.
Focusing on the case of Jamaica, the film shows how traditional industries are destroyed, new exploitative industries introduced, governments prevented from protecting their constituents and the resulting high unemployment and socail unrest.
Throughout the film we have interviews with both economists and politicians – an interview with former Prime Minister Michael Manley forms the backbone of the story – and also with those most affected: farmers, producers, workers and the youth.
We see how traditional farming has been destroyed by unfair competition, which is either from countries which are being even more heavily exploited, or because of heavy subsidies being meted out to farming in richer countries.
The introduction of free trade zones where corporations are free to exploit their workers outside of any governmental controls, unionisation is not allowed and foreign workers are imported replacing jobs if there is any trouble.
Meanwhile farming and other traditional industries are destroyed, unemployment is at record levels, organised crime is on the increase and rioting is becoming commonplace.
The film makes good use of its interviews, often juxtoposing statements by local politicians with those of bureaucrats from the IMF, and has a good and socially aware selection of songs from Jamacan artists.
---
In case you think things have changed in the last 10 years, following the Genral Election at the end of last year, Al-Jazeera had this as part of its report on the problems facing the new Government:
The winner will face deep economic problems. The island of 2.8 million people has a punishing debt of roughly $8.6bn, or 130 per cent of gross domestic product, a rate about 10 percentage points higher than Italy's. Jamaica's economy has been on a meagre upswing, but roughly 60 per cent of government spending still goes to debt and another 30 per cent pays wages. That leaves just 10 per cent for education, health, security and other parts of the budget.
How we can ever hope for the betterment of the poor people of the world when 60% still goes on debt repayment I don't know. It seems to me that the first world is still enslaving the 3rd world, even though it is now done by (forced) agreements.
if this video is no longer available please leave a comment so I can update the page
(the comment is not published)

Michael Manley

IMF Bureaucrat

Rastafarian

Poor Farmer

Free Zone Workers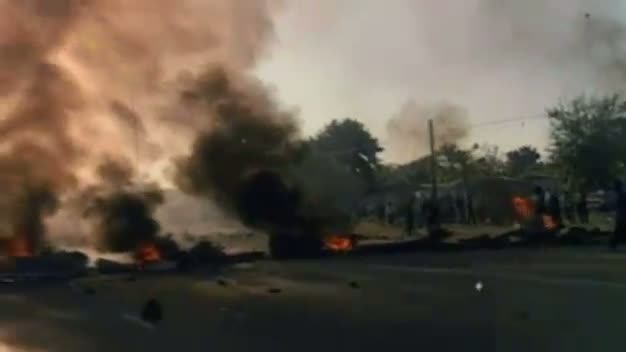 Riots on the Streets