Michael Anderson This is the second edition of Michael Anderson's documentary on American eating habits, and how they are killing the people they are supposed to be sustaining. It is marked 'plus' and therefore I think it must have extra material compared to the normal version. With the help of medical experts Joseph Crowe, M.D.,…
Non-verbal film about the exploitation of the forests of Indonesia and the devastating effect that is having on the wildlife.
In the second series of films about radical ecological architecture we move from the States to see how it is being implemented around the world.
A series of radical films made all over the world about new ideas in building and community, and how we move away from the mess we have only recently created.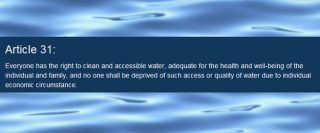 This documentary provides a lot of fresh material showing how the commodification of such a basic resource as water is actually killing people right here and now, but no one seems to be held accountable for it.
Since the accident at Chernobyl there has been enormous increase in thyroid cancer, congenital birth defects, and double hole in the heart defects, otherwise known as Chernobyl Heart.
This documentary traces the unfolding of the tragic events at Chernobyl following the accident during an experimental shut down that went wrong in March 1986 and up and till the mid-2000s when the film was made.
This documentary travels to Bolivia, India, Spain, Tanzania and back home to Detroit to see the effect that privatisation of water is having on the have-nots, which pushes people into disease on the one hand and criminal activity on the other.
This is one of the first documentaries that tackles the problem of nuclear waste, which is a by-product of the energy production process. The waste is highly radioactive and is expected to be so for at least 100,000 years.